For those of you in or near New Orleans, I am having a signing for my comic book Dead Souls, which features Vlad Tepes and Elizabeth Bathory as its protagonists. Here is the official post I'm circulating.

"A fascinating debut that delivers much, and promises a great deal more."
--Alan Moore, writer of Watchmen

"One of the best and most profoundly imaginative comics I've read for centuries."
--Dani Filth, singer of Cradle of Filth


I will be signing copies of my NOLA supernatural noir comic Dead Souls on Saturday, May 2nd for
Free Comic Book Day
at two different locations. If you're unfamiliar with the book, check out some pages at
the Seraphemera Books website
. While there will be free books provided by Diamond Comic Distributors, mine, sadly, is not. However, I will have free posters, stickers, and buttons to give away, so come support local writers!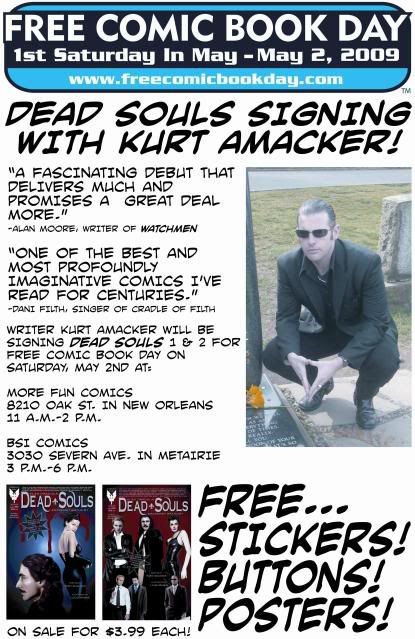 .


More Fun Comics
8210 Oak Street in Uptown New Orleans
11:00 a.m. to 2:00 p.m.

BSI Comics
3030 Severn Avenue in Metairie
3:00 p.m. to 6:00 p.m.

Come pick up some free stuff, and buy a comic and a Dead Souls t-shirt while you're there!